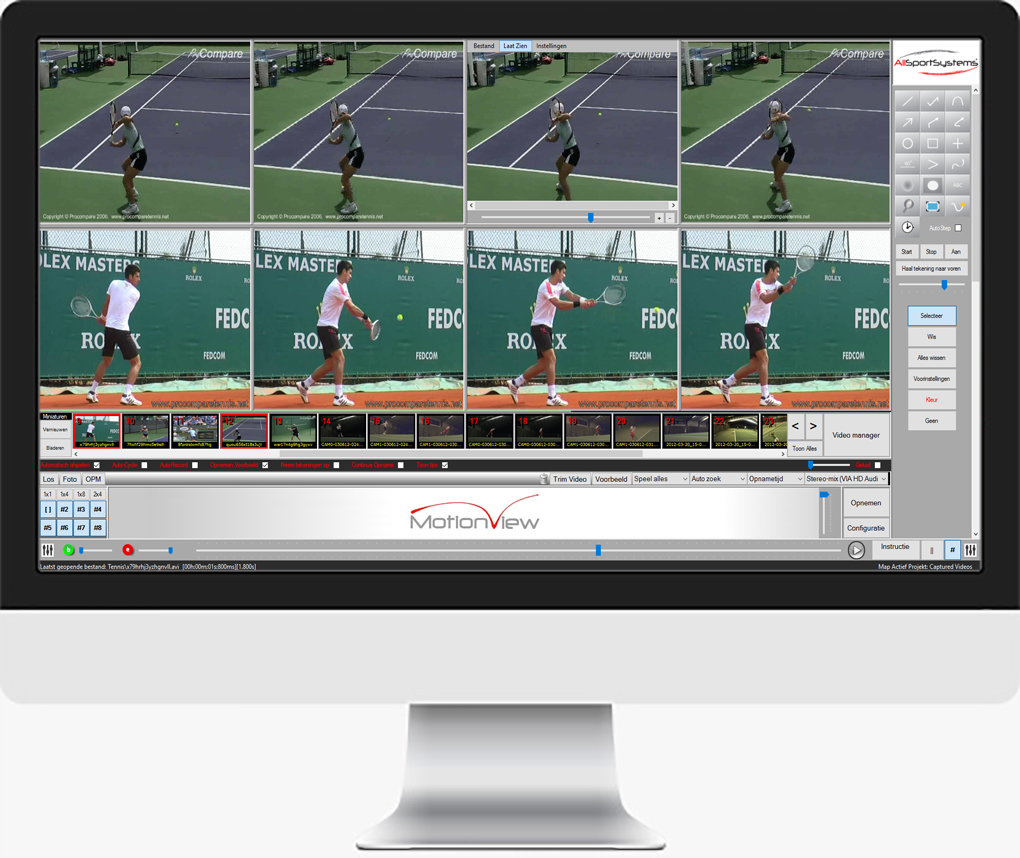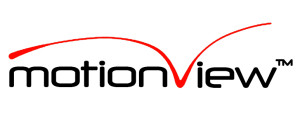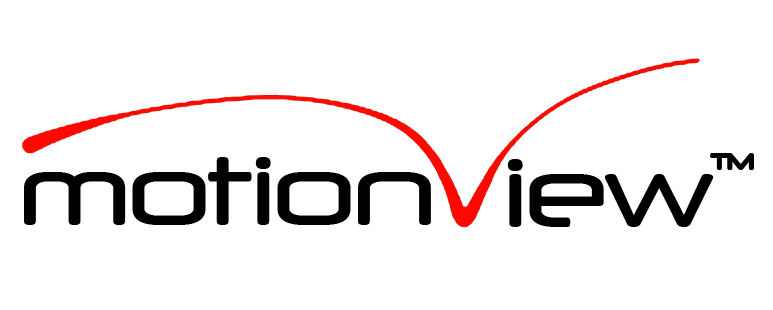 MotionView™ is the ultimate multicamera video analysis software for sports, with up to eight synchronized cameras and video players, animated drawing tools, video coaching, recording and playback automation. World class video analysis software for sports. Editions for individuals, and professionals in sports and research.
MotionView™ – Sports Video Analysis Software and Video Coaching Systems
Video motion analysis software and coaching systems for sports and the mechanics of motion.
MotionView™ is an advanced and affordable video analysis software program for sports coaches, sports professionals, and amateur enthusiasts seeking to analyze the mechanics of motion with high speed video. MotionView™ for sports is designed for ease of use, and will help you quickly analyze, coach, and teach the mechanics of motion, even if you've never used video analysis software before.
MotionView™ software for sports coaching features multi-camera video capture, slow motion video analysis, CAD drawing tools, split-screen video comparison, and much more. Yet this amazing software costs only a fraction of competing video and motion analysis software products for sports!
MotionView™ Motion Analysis Software for sports can capture live video from up to 8 cameras (including high speed cameras) simultaneously, allowing you to record and analyze the mechanics of motion from multiple angles in incredible slow motion. The easy "drag-and-drop" video file manager makes it simple to organize your sports video files, even if you are coaching dozens of student enthusiasts.
Video Analysis applications & features
Suite of video analysis tools for sports coaches
Editable and time-aware CAD drawings
Speed and RPM measurement
Automatic animated object tracking
Side-by-side comparison of up to 8 sports videos
Time-shifting of any live video feed
Video overlay of any two sports videos
Hi Definition video lesson creator
Live video capture from up to 8 cameras
Capture from high speed USB3.0 and GigE cameras
MotionView™ – Video Analysis Coaching Software for Sports
Use MotionView™ video analysis software to improve your sports game, or the game of those you coach.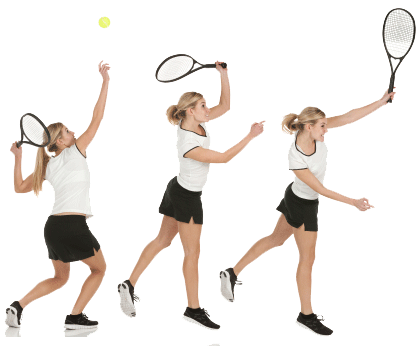 MotionView™ sports coach software is affordable, powerful, and easy to use! Whether you are a professional sports coach in need of video training software, or a serious enthusiast looking for ways to improve your sports skills, isn't it time you put video analysis software to work for you?
Basic Video Analysis Software for Amateur Enthusiasts
MotionView™ Basic is the perfect sports video coaching software for amateur enthusiasts looking to improve their mechanics of motion. Capture video from cell phones, still-shot cameras, or tablets, and review in slow motion on your computer!
Elite Video Analysis Software for Sports Coaches
Use MotionView™ Elite to create "voice-over" video commentaries for your student enthusiasts. Then share them with your students via the internet via MyVideoLocker.com™.
Download your free trial of MotionView™ video analysis software now!
MotionView™ – Sports Video Analysis Software Overview
Use MotionView™ Sports Coaching Software to coach enthusiasts or improve your own game!
The images and descriptions below show how MotionView™ can be used to study, analyze, and coach the mechanics of motion using video recorded from a variety of cameras and angles. There is a version of MotionView™ for every level, from the beginning enthusiast to the elite level coach!
Analyze motion as sequential frames
Analyze the mechanics of motion as sequential frames. Use the 1×4 or 1×8 buttons to instantly sequence a single video into multiple positions, with each position one frame ahead of the next.
Animated tracing logic
There are multiple ways to trace paths in MotionView™ video analysis software for sports:
(1) The "autostep" feature lets you click on the object in motion, and automatically steps forward with each click, creating a curve along the way.
(2) If there is good contrast between the object and the environment the software can automatically trace the path for you!
Animated tracing logic can follow the ball or hands through any motion!
Live video capture from up to 8 cameras
View any combination of sports videos in up to 8 players.
A simple slider bar at the bottom of each video sets the "Moment of Interest" to keep all of the mechanics of motion videos in sync.
Video overlay features
The overlay features allows you to view two sports videos semi-transparently, one on top of the other.
You will easily see differences in key angles and positions as you analyze the mechanics of motion with MotionView™.
You can also use this feature with only one video to view multiple positions overlayed on top of each other.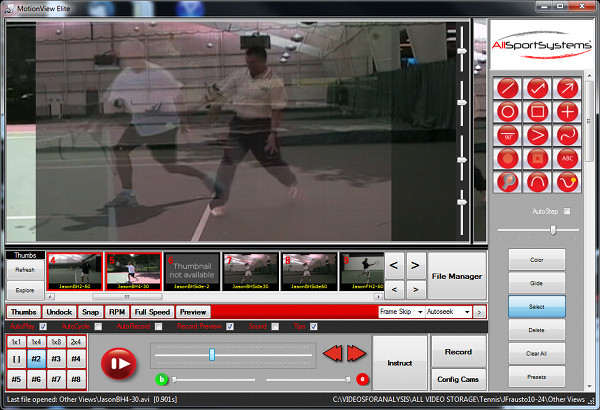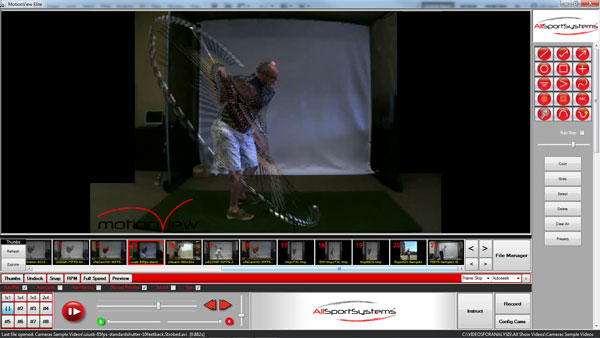 Video strobing features
Video strobing clearly shows the path of the mechanics!
The video strobe feature extracts "the differences" between each consecutive frame in your sports video, and produces a composite video.
This is a great way to reveal the actual path of the , or the mechanics, as well as the motion of the enthusiast as he executes the mechanics of motion.
Measure mechanics speed from video
Measuring mechanics speed is easy to do in MotionView™ for sports. It automatically calculates the speed of the ball.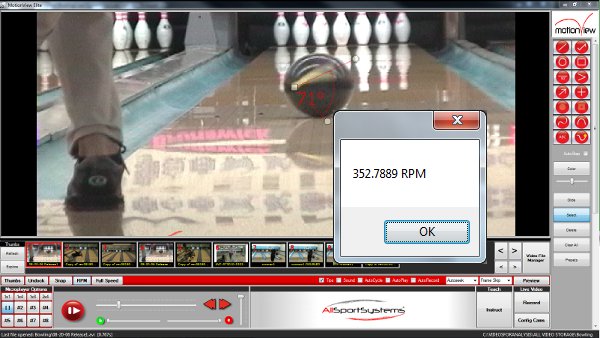 "After what seemed to be an impossible search for affordable video analysis software, I thank you for a product that works great and is only 1/10th the price of competing software with similar features!"
"All my thanks to MotionView™ for its great features. My students and players at all levels are improving rapidly now that I have this product. With its very low price and great features it is, in my opinion, the best tool available!"