We are AllSportSystems
Established in 2005, AllSportSystems® has developed into a world class team of highly focused professionals with a unique set of skills. We are a small company having a lot of fun while creating some pretty cool products.
Our MotionView™ video analysis software has been licensed by over 14,000 customers and is the catalyst behind many of our hardware products. Our multi-camera Nomad™ video coaching systems have been installed at schools and sports venues around the world through direct customer relationships as well as partnerships with private-label distributors.
Our versatile line of heavy duty Laptop Tripods have been adopted as the gold standard by coaches in the field, and have evolved into the perfect portable computer platforms for insurance adjusters, IT departments, musicians and DJs.
In recent years we have created our own line of Home Golf Simulators and accessories, including our small-footprint MiniBay™ and SuperBay™ golf simulator enclosures, the TerraShield™ projector enclosure, and much more.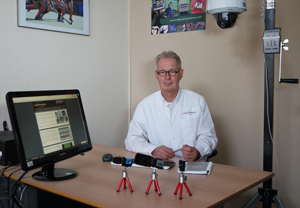 Maarten Koolen
Director of European Operations
Maarten oversees our European operations from his office located in the Netherlands. He operates www.allsportsytems.eu while leveraging a wealth of real-world experience in many fields of sport. Maarten is a graduated field-hockey coach and is very familiar with sports such as tennis, golf and soccer.
Maarten has served as vice-president on the board of a professional soccer club in the Netherlands and enjoys applying his experience to help our customers arrive at the perfect solution!